There is a lot of buzz about taking collagen these days.   While this will be of great benefit to those who want to improve their hair, skin, nails and joints there is another way with a product called BioSil by Preferred Nutrition!
It's important to note that BioSil™ is not made out of collagen, it generates collagen. There's a big difference. When you ingest collagen, the human body breaks it down and uses it as food. By contrast, BioSil's™ patented ch-OSA complex helps your body to generate its own collagen to provide support for stronger, healthy and thicker hair; stronger nails; fewer fine lines and wrinkles; denser and more flexible bones.
What is it and what is the dosage?
Silicon (as Choline-stabilized orthosilicic acid) (ch-OSA). 6 mg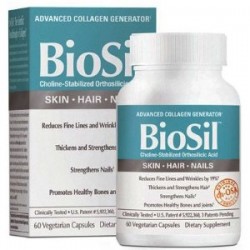 One capsule is equivalent to 6 drops of BioSilâ"¢ liquid.
Choline chloride, vegetarian capsule (hydroxypropylmethylcellulose,
water) with microcrystalline cellulose, water.
SUGGESTED USAGE
2 capsules daily or as directed by a health care practitioner
For more information click here: WS Newspaper Ad Bagstuffer 5.5×8.5 Oct2011-HR
As always thank you all for reading!   We look forward to helping you with what ever you health needs may be!   Have a wonderful weekend.   Also we do mail orders as well, you can call toll free 1 866 49