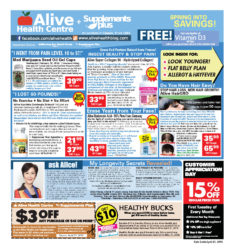 Not only is it time to do some Spring Cleaning around your home, but how about lending a little TLC to your body. Spring Clean your gut with a cleanse, eating clean as well as probiotics and your body will thank you!  Side benefits include… being ready for a beach body summer!  Alice Chung, Owner of Alive Health Centre, has carefully put together a Spring Flyer that is all about your wellness goals and she challenges you to be the best you can be.
We hope you enjoy not only the savings, but the results you will see with this flyer.  Here is ASK Alice!
Click an icon below to see our flyers!
Ask Alice!

My Longevity Secrets

Revealed

!

Everyone wants to know my secrets for longevity. How do I have such soft skin? How is my hair so thick and silky? How is my mind still so sharp and how do I not get tired? The quick answer is, stop living your life like its dictionary definition: "The existence of an individual human being or animal."
Existing is not enough. If you want quality of life, you have to start treating your body with respect. Make a vow to yourself, to stop ignoring your bodies warning signals (such as early aging) and make positive lifestyle changes now.
HAVE SEX: Sure sex feels good, but did you know? New research shows that having sex regularly helps us look and feel up to 7 years younger! Men check out P.g. 11 for Alive Extra LHT and Women, see Alive Maca to get the libido going! Pg. 6 for hormone balancing products.
SEE FRIENDS IN PERSON: I say in person, because did you know that making the time for friends increases your lifespan? Social isolation is equivalent to smoking 15 cigarettes a day!

DAILY VITAMIN REGIME: Come into a location near you to have our Wellness Experts find a program that works for your body. I have been doing this for over 40 years and vitamins are my life insurance. I truly feel ALIVE!

Alice Chung, who is 71 years young, has been in the health industry since 1978. She owns Alive Health Centre (BC), Morning Sun (Alberta) and Supplements Plus (BC and Toronto). You can find Alice at the OAKRIDGE Store location in Vancouver, BC Thursday – Saturday: 604-263-3235 or toll free: 1-866-499-9546.
We hope that you will come and visit us at either Alive Health Centre, Morning Sun or Supplements Plus near you! Do not sit in silence; there are so many things you can do to better your health! Get excited and take charge of your health. Let's work together, along with your doctor to ensure you are doing all you can to lead a happy and healthy life. Our team looks forward to helping you with whatever your health concerns are.