Its a great time to save!  We are starting to see the colds and flus spreading so get your favourite preventative products now before you feel the symptoms!  Alice's favourites are:
Alive Royal Jelly is BOGO and is the one vitamin that Alice simply will not travel without.
Joy of the Mountains Oil of Oregano.
Natural Factors Anti-Viral soothing lozenges for your throat.
A.Vogel Throat Spray works quickly!
Alive Vitamins Brazilian Bee Propolis – the liquid is amazing and used by singers.
Here are some coupons that are on now until October 21st.  They are exclusive to Alive, Morning Sun and Supplements plus.  We hope you enjoy!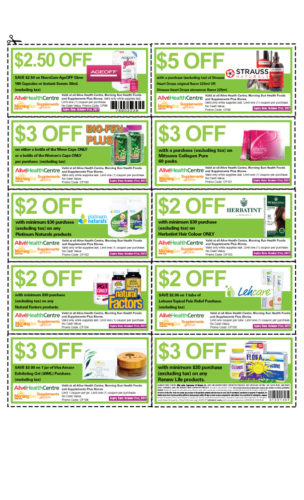 Lastly, here are a few words from Alice.  This is her column ASK Alice!  Hope you enjoy…
Be Healthy Today! Because Tomorrow Never Comes…
Forbes Magazine featured Denis Waitley, a writer and motivational speaker. He observed that health is the one gift, aside from time, that is given to us at birth that we take for granted until we don't have it anymore.  We say, I will exercise tomorrow, I will remember to take my vitamins tomorrow, but tomorrow never comes.  As an entrepreneur, I can tell you it usually means, long hours, eating poorly and having no time for anything but the business and the joke is often that an entrepreneur is married to their business.  Not me, I am 70 and truly believe that it has to be health first.
Speaker and author John C. Maxwell recounts the heart attack that floored him at age 51 in his book, Today Matters, saying that he had been arrogant about his health, running a large church and large consulting organization. He writes, "People are funny. When they are young, they will spend their health to get wealth. Later, they will gladly pay all they have trying to get their health back."  At 70 this is what I can tell you, Health is not a competition, it is not a trend and it is not something you should do for anyone else but yourself.  If you want to lose weight, it's not for society, it is for yourself, because only then will you be able to succeed.  My team and I care about your health and if you want help to change, together we can make it happen! We believe in "being the best version of ourselves" (see Pg.3). In this flyer, we have products to help you lose and maintain a healthy weight, as well as keep you looking young and youthful naturally! Customer favourites: Alive Super Collagen Pg.1, Body-Tox Pg. 3, Alive Bamboo Silica Pg. 5 and Alive Hyaluronic Acid Pg. 12 with over 70,000 SOLD!
We hope that you will come and visit us at either Alive Health Centre, Morning Sun or Supplements Plus. Do not sit in silence; there are so many things you can do to better your health! Get excited and take charge of your health. Let's work together, along with your doctor to ensure you are doing all you can to lead a happy and healthy life. Our team looks forward to helping you with what ever your health concerns are.