ASK Alice Fall 2014
Mental Illness & Bullying
Breaking the Code of Silence
We see all the ads of going back to school everywhere we look…  Did you get your pencil crayons and new cloths?? At Alive Health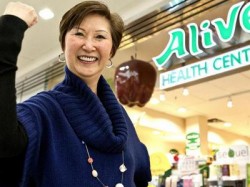 Centre, Morning Sun and Supplements Plus, going back to school, means more than just buying new things. We want to let our kids know that going back to school means being ready to face challenges, face fears, stand up to bullies by asking for help and to do these things by being respectful.  As many others before me have said, our children are our future.  Therefore, we need to give them all the opportunities we possibly can; such as the opportunity of optimal health. PAGE 3 is dedicated to: Brain power, Energy and Healthy Immune.  Throughout the whole flyer we are thinking about Moms, Dads and ALL families.  Too busy to eat quality nutrients try PG 2 VegEssentials or PG 4 Garden of Life Raw, Organic, Vegan Protein Meals.  Stressed out? PG 4 Alive GABA, it's Natural and works quickly to help those suffering from insomnia and anxiety.
Lastly, despite the sad news in the world lately, I thought we should continue to raise awareness on issues such as bullying whenever possible.  So even if one person gets something out of this article, it will be worth it.  As you know it is our Mission: To change the world through healthy living by putting you first. So I will share this article written by Alive Magazine, Ellen Niemer.  "Some people feel that kids shouldn't tell anyone about being bullied, because it only makes it worse. I think they should. Bullies operate best under a code of silence – a lot of people may know about the bullying, but if they all keep it to themselves, they are aiding and abetting the bully. A new study released shows that kids who are exposed to bullying run an increased risk of developing psychiatric disorders as adults. And that's whether they're the victim or the perpetrator. The study also revealed that kids who are both bullies and victims run the highest risk of suicide. Whether we deal with bullies as kids, or as adults, in our homes, our schools, our playgrounds, or our workplaces, let's break the code of silence. Have you been bullied? Let us know how you dealt with it." www.alivehealthblog.com or facebook.com/alivehealth.
Call me old fashioned, but I will leave you with this…"Nothing is impossible. The word says, I'm Possible." – Audrey Hepburn
If there is not a location near you we would love to help you with a mail order. MAIL ORDER: Toll free 1-866-499-9546
We hope that you will come and visit us at either Alive Health Centre, Morning Sun or Supplements Plus. Do not sit in silence; there are so many things you can do to better your health! Get excited and take charge of your health. Let's work together, along with your doctor to ensure you are doing all you can to lead a happy and healthy life. Our team looks forward to helping you with what ever your health concerns are.