Customer testimonial: "I've been taking CircuVein for about two months to see if it would help my varicose veins and I definitely feel like it has, my legs feel less tired and heavy than they used to, which is great!" Nicole T.
CircuVein by Flora is a favourite not just among our customers, but our staff! Both Owner Alice Chung and Family Shannon Chung love this product.  We used to use Quest Bioflavenoids and then it was discontinued.  There was a void in the market for quite a few years to help people with varicose veins and circulation… until… Flora came out with this fabulous product.  I (Shannon Chung) am a mother of two.  I have a 3 year old and a 1 year old.  I had severe varicose veins and spider veins in my left leg especially and now thanks to CircuVein I am looking pretty awesome!  It is not just the appearance that has improved, but also the heavy, bogged down feeling that varicose veins give you.  Mine were actually quite painful, but not anymore.
Flora CircuVein Description:
Flora's CircuVein is clinically proven to reduce the appearance of varicose and spider veins within just 2 months! The first product of its kind, CircuVein alleviates symptoms of varicose veins, and repairs and strengthens blood vessels. This clinically-proven formula also relieves symptoms of hemorrhoids.
CircuVein's medicinal ingredients, Diosmin and hesperidin are bioflavonoids. They are found naturally in citrus fruits and we source ours from Spanish oranges. These bioflavonoids have been studied extensively since 1971 and have been proven both safe and effective.
NPN Claims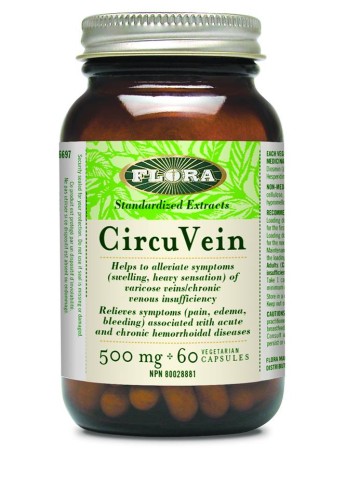 Helps to alleviate symptoms (swelling, heavy sensation) of varicose veins / chronic venous insufficiency.
Relieves symptoms (pain, edema, bleeding) associated with acute and chronic hemorrhoidal diseases.
Features
Acts as an antioxidant and supports veins by reducing inflammation
Protects and tones vascular blood vessels to prevent leakage, swelling and heaviness
Promotes healthy circulation for blood vessels
Relieves symptoms (pain, edema, bleeding) associated with acute and chronic hemorrhoid diseases
Formulated for optimum absorption
Safe for long term use
Vegan
Gluten-free
If there is not a location near you we would love to help you with a mail order. MAIL ORDER: Toll free 1-866-499-9546
We hope that you will come and visit us at either Alive Health Centre, Morning Sun or Supplements Plus. Do not sit in silence; there are so many things you can do to better your health! Get excited and take charge of your health. Let's work together, along with your doctor to ensure you are doing all you can to lead a happy and healthy life. Our team looks forward to helping you with what ever your health concerns are.