The Spring Flyer Sale is on NOW until April 21st 2013. The theme of the flyer is to take charge of your health!!  Alice Chung, owner of Alive Health Centre and group has teamed up with Bryce Wylde to help people understand what they are taking.  It's time to lose the weight, prevent disease, improve dificiencies and basically improve your health no matter how small.  It all makes a difference.  Sometimes it can be hard to do it on exercise and diet alone, so here is a flyer designed just for you with some "crutches" as Dr. Oz likes to call them, so you can reach your weight loss goals and sustain them for life!
Alive Health Centre Spring Flyer BC Locations: http://www.livingnaturally.com/PDFDocs/c/c649c9cc0580465a9c7ea9def16eb450.PDF
Morning Sun Spring Flyer Alberta Locations: http://www.livingnaturally.com/PDFDocs/c/cc86246b93ec4d2892f8249e68d93fdc.PDF
Supplements Plus Spring Flyer Ontario Locations: http://www.livingnaturally.com/PDFDocs/0/066009f7bf67401cb14264ace5e58cdc.PDF
Every flyer Alice Chung the owner of Alive Health Centre, Morning Sun and Supplements Plus always writes an ASK Alice column.  Here it is for all to enjoy: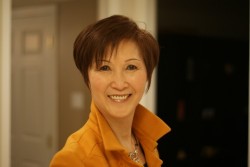 Alice Chung and Bryce Wylde
CANADA'S Natural Health Leaders!
I'm pleased to have been in the Health Industry for over 35 years working with my enthusiastic team of Wellness Associates as we strive to assist you in improving your health. We encourage you to come speak to us with regards to preventing major health concerns such as:
The proven ANTI-AGING Breakthrough TA-65 (Pg.12), Heart Disease (Pg. 9), Arthritic PAIN (Pg. 7),Type II Diabetes, (Pg. 5) and Dr. Oz Hormone Type Imbalances (Pg. 3). The root of many health problems can be conquered by controlling inflammation & by maintaining a healthy weight (Pg. 2). HOW? There is no miracle; we do it by eating right, staying active, taking quality supplements and finding the WILL POWER to follow through. This has been my main message in my ASK Alice column and I am pleased to introduce another powerful force in support of your health: Bryce Wylde – Canada's alternative medicine expert, clinician, television host, educator, author, and philanthropist. Bryce began his official on air television hosting career with CTV starting on the CP24 news channel with his own highly rated weekly television show, Wylde on Health. Wylde on Health featured interviews with international experts including Dr. Mehmet Oz, Dr. Andrew Weil, CNN's Dr. Sanjay Gupta, and Dr. David Suzuki to name a few. And NOW he is travelling the world and appears regularly on Cityline as well as BT Vancouver, Calgary and Toronto as the Rogers' Citytv health expert. Bryce is a regular contributor to the Dr. OZ show as a highly respected colleague spreading the awareness of preventative medicine and supplements such as Green Coffee Bean Extract, Pterostilbene, Ubiquinol (Pg. 9), Red Fruit Palm Oil (Pg. 2) and many others. Success comes from LOVING what you do. He has an abundance of passion for wellness as do I. I started out in 1983 with my 1st Alive Health Centre in Richmond Centre Mall in BC. Now I have 29 stores across Canada. For more of Bryce's expertise check out his newest book Wylde On Health: Your Best Choices in the World of Natural Health. Also, keep an eye out for his all new national show "Wylde On Health" coming soon. Bryce, my team and I truly hope our flyer will inspire you to improve your health. Supplements are here to help you gain optimal health whether it be for making you a better athlete or a more energetic grandparent!
SPECIAL PROMOTION:
One of Bryce's top priorities is to 'debunk the junk'. With a strong desire to
empower consumers to make appropriate educated choices in the realm of alternative therapies. Wylde About Health Inc., has created a line of HOME TESTING. After joining forces with world class CLIA certified laboratories, the Wylde About Health Inc. MyStatus™ test kits provide consumers, the power to discover personal levels of omega-3, hormones, vitamins, minerals, toxins, brain neurotransmitters, genomics, and much more. To purchase a MyStatus test kit, go to www.wyldeabouthealth. com/mystatus and enter Promo Code CXVAU to receive an additional 10% discount and for your chance to win a year's supply of your choice of any Ascenta Product. Check out the Alive group blog for more information on Bryce and promotions.
Alice Chung has been in the health industry since 1978. She owns Alive Health Centres (BC), Morning Sun (Alberta) and Supplements Plus in both (BC) and (Toronto). You can find Alice at the OAKRIDGE Store location in Vancouver BC Thursday – Saturday: 604-263-3235 or toll free: 1-866-499-9546.
As always we look forward to helping you at a location near you!  If there is not a location near you we would love to help you with a mail order.
MAIL ORDER: Toll free 1-866-499-9546