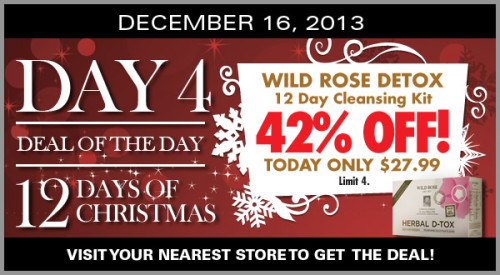 Today ONLY Give the Gift of Health with WILDROSE Detox Cleansing kit!  This is a fabulous way to keep healthy.  Wildrose is a 7 channel elimination system.  It will get your liver, kidneys, lungs, lymphatic system, blood and much more in tip top shape!!  We can't help eat tasty delicious food, but sometimes that means we are bound to put on a couple of extra pounds over the holidays!  So why wait until January, start now!  Or buy it today and you can start the cleanse in the New Year when you are ready!  Or this makes a wonderful gift for your sister, your mom, your dad or anyone on your list that would love the gift of health!
Also you can combine this product with others to make it more complete!  Cleanses go well with probiotics, fish oil, protein and fibre!  This will make you or your loved one feel like a new person!
As always, we hope that you will come and visit us at either Alive Health Centre, Morning Sun or Supplements Plus. Do not sit in silence; there are so many things you can do to better your health! Get excited and take charge of your health. Let's work together, along with your doctor to ensure you are doing all you can to lead a happy and healthy life. Our team looks forward to helping you with what ever your health concerns are.
Also, if there is not a location near you, we do MAIL ORDERS call us toll free at 1 866 499 9546