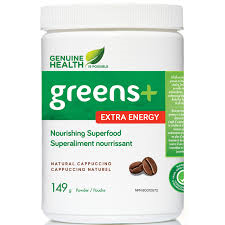 Rely On Coffee/NRG Drinks Too Much?
Genuine Health Greens+ Extra Energy
Why crash your system just to get a boost? greens+ extra energy will nourish you while it energizes- for a sustained and balanced energy! With greens+ extra energy, you get all-natural energizing ingredients including taurine and naturally occurring caffeine from the kola nut, PLUS a full serving of nutrient-rich greens+! Just one scoop daily provides:
• Immediate, long-lasting source of all-natural energy
• Increased vitality and mental clarity
• No over-stimulation or energy "crash" side-effects
Provides a healthy and sugar-free alternative to "energy drinks" and coffee which tax the central nervous system with unwanted additives and calories.  No matter how hectic your days may be, greens+ extra energy will give you a boost everyday – with the healthiest and most balanced source of long-lasting energy – naturally.
SAVE $10.00 at Alive Health Centre, Morning Sun or Supplements Plus near you!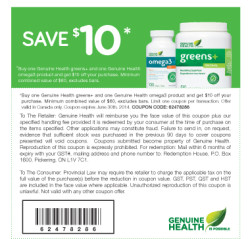 We hope that you will come and visit us at either Alive Health Centre, Morning Sun or Supplements Plus. Do not sit in silence; there are so many things you can do to better your health! Get excited and take charge of your health. Let's work together, along with your doctor to ensure you are doing all you can to lead a happy and healthy life. Our team looks forward to helping you with what ever your health concerns are.