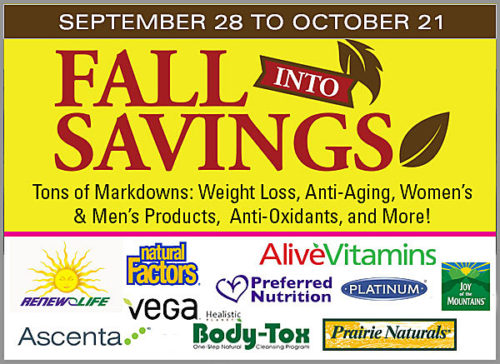 It is FLYER TIME!  Check out our flyer.
Click on the link below that is closest to you.  Also please enjoy a few words from Alice Chung, owner of Alive Health Centre, Morning Sun and Supplements Plus.
Chinese Flyer For ALL Locations
Also, if there is not a location near you, we do MAIL ORDERS call us toll free at 1 866 499 9546
ASK ALICE
Why YOU Need Supplements!
Featuring Brad King M.S., MFS, fitness and nutritional expert
Do you ever hear, "I don't need to take vitamins, I am so healthy! I eat very well." Number one is to eat a healthy diet and to exercise regularly, however, it is also good to take a step back and ask yourself to really listen to your body. Ask yourself can I feel better? After helping people for over 30 years, I see all the time that we are just too busy to take care of ourselves, so we ignore the symptoms of poor digestion, aches/pains, or unexplained weight gain. This can happen, even if we are eating right and are active! So why should you take Vitamins? 1. Current commercial agriculture techniques leave soil deficient in important minerals, causing the food grown in this soil to share the same mineral deficiencies. 2. Many foods are shipped long distances and are stored for long periods of time, both of which cause the depletion of vitamins in these foods. Another reason, according to Brad King M.S., MFS, fitness and nutritional expert, is that your cravings could be telling you that you have a vitamin deficiency. In his April 28th blog article Brad revealed that cravings of chocolate especially during a woman's menstrual cycle may be in part due to a magnesium deficiency, as treatment with magnesium has been shown to reduce chocolate cravings. Also if you are always craving sugar, this is a sign that you are low in B-Vitamins. (See Page 3 Alive Vitamins Feature Page). Lastly, did you know why women during pregnancy crave pickles and ice cream? Research shows that ice cream is due to the body needing extra calcium and that pickles help to absorb the calcium. Therefore, as always our team of Wellness Associates look forward to helping you figure out what supplements you can take to make you the BEST you can be!