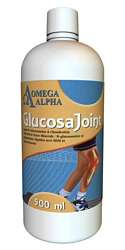 Available now until December 31st 2010 is a $2.00 coupon which is exclusive to Alive, Supplements Plus and Morning Sun.  Click below to print out and bring to a location near you!
Customers come into Alive, Supplements Plus and Morning Sun daily wanting something to rebuild their joints and take away inflammation and pain.  When you have joints that not only ache, but actually throb, it is overwhelming and often distracts you from enjoying life.  If you hate swallowing tablets or capsules, there are other options.  We have had many customers who have found success with Omega Alpha's Glucosa Joint Liquid Formula. 
Dr. Gordon's GlucosaJoint™ is a scientific formula containing D-Glucosamine HCL, Chrondroitin Sulphate and MSM, which combines the three most researched and effective nutrients available for maintaining good bone, joint and ligament health. In a liquid form for the best nutrient absorption possible and for those who have difficulty swallowing pills, GlucosaJoint also contains important trace minerals which research has shown all help to build strong bones.
Dosage:
Take 5ml (1 teaspoon) three times a day.  Shake well before use.
Ingreedients and what they do:
| | |
| --- | --- |
| INGREDIENTS | SPECIFIC FUNCTION |
| D-Glucosamine HCL (shellfish exoskeletons) | Stimulates the formation of cartilage without side effects. |
| MSM (Methyl Sulfonyl Methane) | A potent sulphur donor, essential to cartilage formation and restoration. |
| Chondroitin Sulphate (bovine trachea) | Effective in the repair and restoration of cartilaginous tissue. |
| Frankincense (Boswellia serrata) | A potent anti-inflammatory herb |
| Tumeric (Curcuma longa) | A potent anti-inflammatory herb. |
| Yucca (Yucca schidigera) | Due to its high content of saponins, Yucca is a powerful anti-inflammatory and has blood-purifying properties. |
| Silicon (Sodium metasilicate) | Important trace mineral for bone health. |
| Manganese (Manganese Sulphate) | Important co-factor for the proper functioning of anti-inflammatory enzyme pathways |
For more information on Arthritis click here.
As always thank you for reading!  We look forward to seeing you at Alive Health Centre, Morning Sun or Supplements Plus.